Dreyproper
A fully automatic cleaning device for water- cooling and heating ducts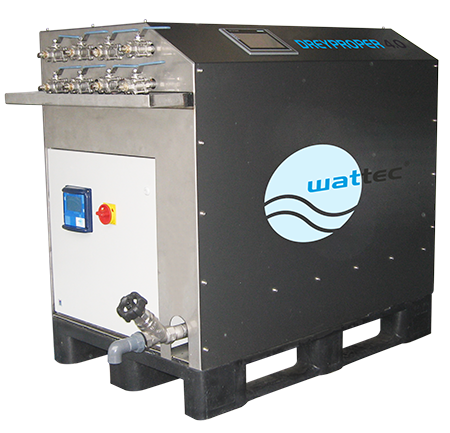 With DREYPROPER  to win on all levels
DREYPROPER is a fully automatic cleaning device for water- cooling and heating
ducts. The new sampling process makes cleaning much more efficient.
Advantages
Inexpensive and easy cleaning of tempering-/ cooling channels about existing connections
Reliable removal of even stubborn encrustations by special environmentally friendly cleaning products and new, more effective sampling ethod
• Fully automatic cleaning programs
• Compliance with all statutory wastewater regulations
• Mobile unit for use on armed tools, heat exchangers, chillers, heaters etc.
• Always fully operational tools
Short machine downtimes
• It is possible to blow out the cooling channels
Many well-known customers already use our Dreyproper!
Browse our brochure 'Dreyproper'
The features and amenities
• Up to eight flow monitored flushing connections
• Fully automatic cleaning of cooling channels; Filter of lime and rust from the water
• Permanent monitoring of the rinsing
• Automatic shutdown after completion of the cleaning process
• Leakage monitoring
• Integrated safety catch basin
• Touch-screen display: temperature, pH, pump running, the duration of cleaning, etc.
• Automatic neutralization by ph-monitoring
• Detergent can be discharged directly into the environmentfriendly channel
• Needs-based approach of the rinse solution
• Frequency-controlled, multi-stage centrifugal pump
• Compressed air connection
Technical data
Used Cleaner DREYPROPER CLZ + DREYPROPER NL
| | |
| --- | --- |
| Technical data |   |
| length | 1210 mm |
| width  | 809 mm |
| height |  1025 mm |
| weight empty + full |  150 kg / 400 kg |
| electrical connection | 400 V / 16 A |
| performance | max. 6,4 kW |
| control | Siemens SPS |
| operating pressure | < 6 bar |
| flushing Dreyproper 4.0 + 4.1 | 4.0: 4 x 1/2" + 4.1: 8 x 1/2" |
| max. flow per canal | 21 l/min |
| pH value | 0 – 14 |
| temperature | max. 50 °C |
| fresh water supply | 1/2" |
| drain | 1" |